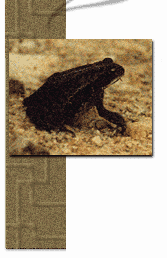 Creating
the Context
Home
Research Focus
Background Info
Research Methodology
Data Submission
Results of Study
Data Analysis
Conclusion
Further Research
Guided
Research
Research Question
Background Info
Research Methodology
Data Submission
Results of Study
Data Analysis
Conclusion
Further Research
Research Values
Student
Research
Publish
View
Research Needs on Amphibian Decline
Involve volunteers that normally would not conduct surveys at night (e.g., school groups). Validation is needed of the results of surveys during the day with and without using broadcast tapes. An approach using school groups may also enable more data to be collected on urban natural areas such as ravines, creeks etc.
Confirm the distance required between observation points to avoid overlap which may lead to detection of the same calling species.
Continue to evaluate whether the data collected is valuable only as presence/ absence data or if the data is indicative of population fluctuations within a site. This would be possible by continuing to assess the relationships between call counts, call intensity, and chorus and population size as evaluated by mark-recapture or other intensive population size estimates. This needs to be assessed among several populations of the same species over several years.
Continue to evaluate automated call-count systems vs. call-count accuracy and comparability of data collected under various weather conditions by human observers.
Continue to determine the cost of collecting data and the quality of the data under combinations of different survey lengths and timings to determine if this method of collecting data produces high-quality information and is cost-effective.
Compare trends in presence/absence and population fluctuations among different call-count approaches, e.g., roadside call counts; single-pond surveys; larval surveys; and automated systems.
Develop analytic procedures that will make the best possible use of the calling and environmental data gathered, ideally generating regional statistical models of the probability that not hearing a species indicates that the species is absent at a site, route or area. Analytic procedures could also study the degree of statistical independence of individuals stations along a route.
Use portable anemometers to recelebrate the Beaufort Scale to the kind of wind disturbance observers are likely to notice (movements of dead spring herbage, particular species of trees), rather than the British marine/urban phenomena of the standard scale.
Look into designing ancillary programs to investigate colonization rates of new ponds and other created environments. Locations in North America where extensive monitoring using call-counts is currently under way (or has been conducted in the past* but was discontinued). The monitoring program may not apply to the entire state or province, depending on observer participation or limitations in coordinator's time and funding for the program.