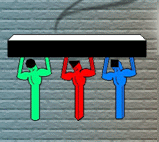 Creating
the Context
Home
Research Focus
Background Info
Research Methods
Data Submission
Results of Study
Data Analysis
Conclusion
Further Research
Guided
Research
Research Question
Background Info
Research Methods
Data Submission
Results of Study
Data Analysis
Conclusion
Further Research
Research Values
Student
Research
Publish
View


Research Question
Please provide a brief statement of the question you intend to explore.



Literature Review
Please list literature resources you may have used in preparing for your research.



URLs
Please list any relevant URLs you used in conducting this research.



Experimental Method
Please describe the experimental method followed in conducting your research.



Results of the Study
Please describe the results you obtained.



Data Analysis
Please provide plausible explanations for the results you obtained.



Conclusions
What are conclusions have you drawn from the Results and Data Analysis?



Extensions
What are possible futher directions of study relating to this research?