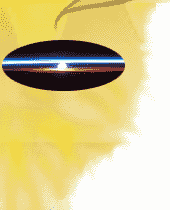 Creating
the Context
Home
Research Focus
Background Info
Research Methods
Data Submission
Results of Study
Data Analysis
Conclusion
Further Research


Guided
Research
Research Question
Background Info
Research Methods
Data Submission
Results of Study
Data Analysis
Conclusion
Further Research
Research Values

Student
Research
Doing Research
Publish
View

More Information
on UVB and DNA
Bhia.org
Apacure.com

Tools
Discussions
Mapping
UVB Links


Human activities, including the production of chlorofluorocarbons, have reduced the concentration of stratospheric ozone. Ozone molecules, in the stratosphere and even ground-level ozone, filter biologically harmful ultraviolet radiation (UV-B) coming from the sun. The reduction of stratospheric ozone may lead to increased levels of UV-B incident radiation on the surface of the planet. Ultraviolet light can be measured outdoors using an Ultraviolet light Meter. Additionally a possible biologic UV dosimeter is a ultraviolet sensitive strain of yeast, is explored in the Guided Research. This potential bioindicator could could help us gain a much deeper understanding of how this global change could be impacting living things.
---
The distribution of ozone in the stratosphere over different parts of the world is complicated and surprising. Because the sunlight (including UV) is most intense in the tropics, you might expect the most ozone over that region. In fact, however, the average ozone concentrations throughout the year are lowest in the tropics, because the ozone in the stratosphere doesn't stay where it is formed. In the fall and spring, when the sun is above the equator, the general pattern of global circulation carries the ozone and other gases in the tropical stratosphere toward the poles. Because UV is not as intense at these higher latitudes, the ozone accumulates there. In the summer and winter, when the sun is more directly over one hemisphere than the other, the global circulation moves from the "summer" hemisphere to the "winter" hemisphere. Therefore, in the temperate latitudes, where most of the United States is, the ozone concentrations vary with the seasons. Finally, in recent years the ozone levels in the polar regions have been declining sharply in the spring to as low as half the global average. Occurrences of low ozone concentrations are called "ozone holes," and are believed by many to be caused by release of chloro-fluorocarbon compounds (CFC) into the atmosphere.
This research explores the realtionship between Total Column Ozone (TCO) and the level of ultra violet light reaching the surface of the planet. Determining the level of UV reaching the ground in your area will lead you to ask research questions that allow you to do your own research project on ozone. Let's begin by asking some questions that will help focus our research.