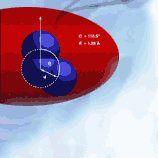 Creating
the Context
Home
Research Focus

Background Info

Research Methods

Data Submission

Results of Study

Data Analysis

Conclusion

Further Research

Guided
Research
Research Question
Background Info

Research Methods

Data Submission

Results of Study

Data Analysis

Conclusion

Further Research
Research Values
Student
Research
Doing Research
Publish
View
Tools
Discussions
Email List
Ozone Links
Ozone Map
Project Awards
The conclusions of science depend on experiments. When well-designed experiments are performed and analyzed, many issues may be settled. But the new knowledge derived from well-run experiments also engenders new issues, and this becomes a part of the creative growth of science. Were you able to answer the research question that directed your research? Were there other variables that prevent you from making a claim to knowing something? Can you refine your work to get a better result? These are questions that you should be asking yourself as you continue your work.
Also, as you were working, you no doubt had other areas of concern and interests come up. Remember to refer back to the research questions that have been submitted by the KanCRN community as a part of this guided research. How are air quality standards set? Is there a better way to mitigate ground-level ozone? What is the real impact of ground-level ozone on living things? High concentrations of ozone near ground level can be harmful to people, animals, crops, and other materials. It can cause shortness of breath, coughing, wheezing, headaches, nausea, and eye and throat irritation. People who suffer from lung diseases such as emphysema, bronchitis, pneumonia, asthma and colds have even more trouble breathing when the air is polluted. These effects can be worse in children and exercising adults. Ozone may increase the susceptibility of the lungs to infections, allergens, and other pollutants. Medical studies have shown that ozone damages lung tissue and that unhealthful effects may continue for days after exposure has ended. What is the effect of ground-level ozone on other plants and animals? How does ozone effect the biosphere in general? What does ozone do to water quality?
Exploring the source of ground-level (or tropospheric) ozone is another interesting direction to follow. tropospheric ozone is created through the interactions of man-made (and natural) emissions of volatile organic compounds and nitrogen oxides in the presence of heat and sunlight. Cars and gasoline-burning engines are large sources of volatile organic compounds (VOCs). VOCs also come from consumer products such as paints, insecticides, and cleaners as well as industrial solvents and chemical manufacturing. Nitrogen oxides (NOx), the other chemical precursor of ozone, are produced when ever fossil fuels are burned and are primarily produced by motor vehicles and power plants. Many factors impact ground-level ozone development, including temperature, wind speed and direction, time of day, and driving patterns. Due to its dependence on weather conditions, ozone is typically a summertime pollutant and a chief component of summertime smog. Can we have an impact o n any of these variables? If world-wide temperatures rise one degree, what would be the effect on the production of tropospheric ozone?
All of these areas are all rich areas to develop additional research on ground-level ozone and the effect of ozone on organisms. If we can eliminate the controversy about the effects of ozone on the biosphere, work will need to be done to find alternatives to the fossil fuels that produce the chemical precursors. There is a lot we still need to know!