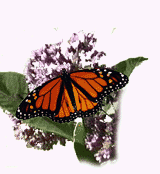 Creating
the Context
[Monarch Tagging]
Home
Research Focus
Background Info
Research Methodology
Data Submission
Results of Study
Data Analysis
Conclusion
Further Research
Guided
Research
[Vector & Orientation]
Research Question
Background Info
Research Methodology
Data Submission
Results of Study
Data Analysis
Conclusion
Further Research
Research Values
Student
Research
Doing Research
Publish
View
Quick & Easy
Map the Wave!
Tools
Discussion Forum
In all the world, no butterflies migrate like the Monarchs of North America. They travel much farther than all other tropical butterflies, up to three thousand miles. They are the only butterflies to make such a long, two way migration every year. Amazingly, they fly in masses to the same winter roosts, often to the exact same trees. Their migration is more the type we expect from birds or whales. However, unlike birds and whales, individuals only make the round trip once. It is their children's grandchildren that return south the following fall. This exciting organism leads us to ask a lot of very interesting questions - like how do they make this incredible migration?
---
Where is the Migration Now?

Join us in creating a real-time map of Monarch migration across North America. This Project is open to everyone - you do not have to be a registered with PathFinder Science to participate. In the spring, March to June, enter a street address of the first Monarch you see! Check out the real-time map of where the Monarchs have been spotted (Fall 2003)


With your help, we will be able to map the Monarch migration as it passes through the U.S. each spring and fall. During a Monarch migration watch for migrating Monarchs. Follow the link to figure out how to tell if they are migrating. When you see a migrating Monarch, fill out the form below and send in your report. Then, using an advanced mapping technology, we will add your data to your fellow researchers data and map the results! The more people who submit data, the more accurate (and colorful) the map will be.
---
Project Credits
The Digital Monarch watch is a collaboration between the Pathfinder Science Collaborative Research Network and the Monarch Watch. Monarch Watch is a collaborative network of students, teachers, volunteers and researchers dedicated to the study of the Monarch butterfly, Danaus plexippus. For information on the Monarch tagging project, please go to the Monarch Watch wetsite The project is directed by Orley R. "Chip" Taylor (Department of Entomology, University of Kansas), in collaboration with Brad Williamson (Olathe East High School), Dr. Bill Calvert (Texas Monarch Watch) and Dr. Karen Oberhauser (University of Minnesota).
For more information on wild life that live within these terrains such as the arctic, visit articworld.net.
For this project, begin by clicking on the Research Focus on the left side of this page!