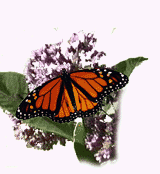 Creating
the Context
[Monarch Tagging]
Home
Research Focus
Background Info
Research Methodology
Data Submission
Results of Study
Data Analysis
Conclusion
Further Research
Guided
Research
[Vector & Orientation]
Research Question
Background Info
Research Methodology
Data Submission
Results of Study
Data Analysis
Conclusion
Further Research
Research Values
Student
Research
Doing Research
Publish
View
Quick & Easy
Map the Wave!
Tools
Discussion Forum
"To my mind, philosophers put the cart before the horse when they say that science constructs a world by sorting out what the experiences of different people have in common. On the contrary, the practice of science supposes the existence of a real and a common world, and assumes that its impact on each individual who is part of it is modified by him in a way which constitutes his personal experience.

We do not construct the world from our experiences; we are aware of the world in our experiences. Science is a language for talking not about experience but about the world.

Science is a way of ordering events; its search is for laws on which to base the single predictions. Science is systematic in method because it seeks a system of prediction. The aim of science is to order the particular example by articulating it on a skeleton of general law."

The Common Sense of Science, J. Bronowski
The focus questions of our work so far are not research questions, which d irect the explanatory side of science, but instead they are designed to help create a context, a deeper understanding of Monarch butterflies, from which interesting research questions about the natural world can emerge. The conclusions you make based on your work so far should answer the focus questions posed by the study. They are also a ticket to the explanatory part of science. As you reflect on your experience so far, we begin to have a models of how the "world" works. Research questions emerge that allow us to test that model.
To continue your work, proceed to Guided Research, if you would like some guidance working out a research question and with the process of finding possible answers. If you have done some work on SO2, lichens, and/or tardigrades on your own that you would like to share with the KanCRN community, you can go ahead to Publish My Research.