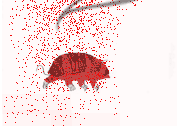 Creating
the Context
Home
Research Focus
Background Info
Research Methodology
Data Submission
Results of Study
Data Analysis
Conclusion
Further Research
Guided
Research
Research Question
Background Info
Research Methodology
Data Submission
Results of Study
Data Analysis
Conclusion
Further Research
Research Values
Student
Research
Doing Research
Publish
View
What we do not know about Tardigrades


It is generally believed that tardigrades in the cryptobiotic state can be carried on the winds. This would account for their worldwide distribution. Tardigrades have been found on remote volcanic islands where dispersion could only have been by wind or birds. The debate is supported by circumstantial evidence and awaits direct proof. What is not understood is why some apparently suitable microhabitats are not inhabited and why tardigrades may be more common in temperate and polar regions than in the tropics.

Additional interesting question include:
Do animals that undergo cryptobiosis have fewer generations?
Does cryptobiosis allow tardigrades to inhabit micro environments that most other animal groups would find too harsh?
Are the most advanced tardigrades the ones that have been in the most stable environment for the longest time?
From what did tardigrades evolve?