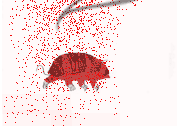 Creating
the Context
Home
Research Focus
Background Info
Research Methodology
Data Submission
Results of Study
Data Analysis
Conclusion
Further Research
Guided
Research
Research Question
Background Info
Research Methodology
Data Submission
Results of Study
Data Analysis
Conclusion
Further Research
Research Values
Student
Research
Doing Research
Publish
View


Guided Research Level 3 | Dichotomous Key




CUSTOM STUDENT PROJECTS TO SUPPORT THE INTERNATIONAL TARDIGRADE SURVEY


Students may expand the concept of collecting tardigrades to any and all known habitats such as moss, lichens, leaf litter, soil, or aquatic and contribute the results to the International Tardigrade Survey if they meet the data and collection requirements of the project. The Mentor will work with student(s) or class on specific custom projects. Such as the detail study of a tree or rock top to bottom or a transect from a lowland to a mountain. Other studies into tardigrade habits, ecology, or morphology are possible. All basic data must meet the data requirements before additional analysis is applied. Recommended for students or classes working on the project for the second or third year.

TO JOIN:

To participate in the International Tardigrade Survey, contact the Tardigrade Mentor, Dr. Randy Miller, by e-mail and work out the details.